This slideshow requires JavaScript.
CRPCA's Book Club gatherings are open to all who have read that month's book. Typically we start out discussing the book, and inevitably someone relates a theme in the book to their own experiences or other readings, so the conversation takes an interesting turn. Our Book Club discusses books of broad interest set in parts of the world in which Peace Corps Volunteers have served. We discuss fiction and nonfiction, books by Returned Peace Corps Volunteers and authors from around the world, and works that incite emotions from fury to laughter. We also love author appearances! Between 2010 and 2014, we hosted 13 different authors – in person, by phone, or via Skype. In 2015, authors Greg Alder, Gary Cornelius, Rajeev Goyal, Michael Heyn, and Stanley Meisler are joining our discussions of their books.
---
Book club books are announced about three months before the book club meeting date. A complete list of all scheduled books is available to CRPCA members from our book club coordinator using the contact form below. The next three books up for discussion will be:

Patchett, Ann: State of Wonder (2011)
Discussion: Tuesday, July 14, 2015, 6:30-8:00 pm. Location at the home of Linda Centurion, 3940 SE 47th Ave in Portland, across from where eastbound SE Center St ends at SE 47th Ave. Access Center by traveling south on SE 42nd Ave from Powell, then turning east onto Center. Or access 47th by traveling west on SE Gladstone St from 52nd, then turning north onto 47th. Feel free to bring snacks to share.
Review: © Publishers Weekly: Patchett (Bel Canto) is a master storyteller who has an entertaining habit of dropping ordinary people into extraordinary and exotic circumstances to see what they're made of. In this expansive page-turner, Marina Singh, a big pharma researcher, is sent by her married boss/lover to the deepest, darkest corner of the Amazon to investigate the death of her colleague, Anders Eckman, who had been dispatched to check on the progress of the incommunicado Dr. Annick Swenson, a rogue scientist on the cusp of developing a fertility drug that could rock the medical profession (and reap enormous profits). After arriving in Manaus, Marina travels into her own heart of darkness, finding Dr. Swenson's camp among the Lakashi, a gentle but enigmatic tribe whose women go on bearing children until the end of their lives. As Marina settles in, she goes native, losing everything she had held on to so dearly in her prescribed Midwestern life, shedding clothing, technology, old loves, and modern medicine in order to find herself. Patchett's fluid prose dissolves in the suspense of this out-there adventure, a juggernaut of a trip to the crossroads of science, ethics, and commerce that readers will hate to see end.
Where to find it:
Libraries: Clackamas Co | Ft Vancouver | Multnomah Co | Washington Co
Vendors: Powell's | Amazon | Barnes & Noble
---

Tayler, Jeffrey*: Angry Wind: Through Muslim Black Africa by Truck, Bus, Boat, and Camel (2005)
* RPCV Morocco (1988-1990)
Discussion: Tuesday, August 11, 2015, 6:30-8:00 pm. Location at the home of Gabriella Maertens, 13302 NE Sacramento Dr in Portland, 503-254-5161. Feel free to bring snacks to share.
Review: © Publishers Weekly: This engrossing narration of crossing the Sahel–the Saharan borderlands of Chad, Nigeria, Niger and Mali–by tortuous and frequently hair-raising local conveyances finds a barren, wind-scoured region, wracked by hunger, tribal conflict, animosity between Muslims and Christians and–a particular bane of wayfarers at border crossings–an infuriatingly corrupt and high-handed bureaucracy. Journalist Tayler (Glory in a Camel's Eye) is guilt-stricken by the appalling poverty and enchanted with a Tuareg tribal sword dance ("This is how people were meant to live… shouting their joy into the wild night sky!"), but he generally avoids being overwhelmed by either the region's problems or its exotic charms. Indeed, his critical perspective makes him an often cantankerous presence. Fluent in Arabic and French, he is drawn into debates about religion and politics (President Bush's words and deeds are a favorite topic among Sahelian Muslims), skeptically cross-examines folklore about tourist spots, argues vehemently.with local defenders and Western relativists alike.against the persistent customs of slavery and female circumcision, and faces down bribe-hungry customs officials. Appreciative of the generosity and patience of the region's long-suffering inhabitants, he also sees their cultures as bogged down by dogma and fatalism. Vividly written and trenchantly observed, Tayler's account opens an everyday window on a world that the West normally confronts only in crisis.
Where to find it:
Libraries: Clackamas Co | Ft Vancouver | Multnomah Co | Washington Co
Vendors: Powell's | Amazon | Barnes & Noble
---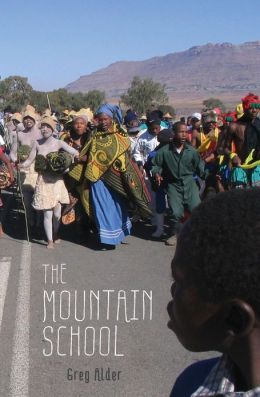 Alder, Greg*: The Mountain School (2013)
* RPCV Lesotho (2003-2006)
Discussion: Wednesday, September 16, 2015, 6:30-8:00 pm. Location at the home of Patrice Hudson, 4222 SE Morrison St in Portland, 503-866-7020. Participating in our discussion–in person–will be Greg Alder, the book's author! Feel free to bring snacks to share.
Synopsis: The Kingdom of Lesotho is a mountainous enclave in southern Africa, and like mountain zones throughout the world it is isolated, steeped in tradition, and home to few outsiders. The people, known as Basotho, are respected in the area as the only tribe never to be defeated by European colonizers. Greg Alder arrives in Tšoeneng as the village's first foreign resident since 1966. In that year, the Canadian priest who had been living there was robbed and murdered in his quarters. Set up as a Peace Corps teacher at the village's secondary school, Alder finds himself incompetent in so many unexpected ways. How do you keep warm in this place where it snows but there is no electricity? For how long can dinners of cornmeal and leaves sustain you? Tšoeneng is a world apart from his home in America. But he persists in becoming familiar with the new lifestyle; he learns to speak the strange local tongue and is eventually invited to participate in initiation rites. Yet even as he seems accepted into the Tšoeneng fold, he sees how much of an outsider he will always remain—and perhaps want to remain. The Mountain School is insightful, candid, at times adaptive and at times rebellious. It is the ultimate tale of the transplant.
Where to find it:
Vendors: Powell's | Amazon | Barnes & Noble
---
Most of our books are selected by an annual survey; stay tuned for our next survey in mid-2015. We schedule additional books when an author offers to meet with us. If you are interested in learning more about CRPCA's book club, upcoming books or author events, please contact our book club coordinator, Bill Stein, at 503-830-0817 or bookclub AT crpca.org or through the form below:
This page has the following sub pages.