This slideshow requires JavaScript.
CRPCA's Book Club gatherings are open to all who have read that month's book. Typically we start out discussing the book, and inevitably someone relates a theme in the book to their own experiences or other readings, so the conversation takes an interesting turn. Our Book Club discusses books of broad interest set in parts of the world in which Peace Corps Volunteers have served. We discuss fiction and nonfiction, books by Returned Peace Corps Volunteers and authors from around the world, and works that incite emotions from fury to laughter. We also love author appearances! Between 2010 and 2014, we hosted 13 different authors – in person, by phone, or via Skype. In 2015, authors Greg Alder, Gary Cornelius, Rajeev Goyal, Michael Heyn, and Stanley Meisler are joining our discussions of their books.
---
Book club books are announced about three months before the book club meeting date. A complete list of all scheduled books is available to CRPCA members from our book club coordinator using the contact form below. The next three books up for discussion will be:

Fuller, Alexandra: Don't Let's Go to the Dogs Tonight: An African Childhood (2003)
Discussion: Tuesday, February 9, 2016, 6:30-8:00 pm. Location at the home of Carol McCormac Wild, 7865 SW Parrway Dr in Portland, 503-292-3385. Feel free to bring snacks to share.
Review: © Booklist: Fuller, nicknamed "Bobo," grew up in Rhodesia (now Zimbabwe) during the civil war, and she watched her parents fight against the local Africans to keep their farm. Fuller writes from a child's point of view, masking neither her family's prejudices nor their passions. Fuller's father, Tim, is a determined and strong man, married to Nicola, who is gradually cracking under the pressure of the civil war and also of the deaths of her children. The Fullers lost three children; only Alexandra and her older sister, Vanessa, survived. The losses take their toll on Nicola, who turns to alcohol to combat her overwhelming depression. After the white colonialists lose the civil war, the Fullers' farm is taken away, and they move to Malawi, where Bobo begins to get a sense of the life of an average African. But the overbearing Malawian government motivates the Fullers to move on, and they finally settle in Zambia. Fuller is a gifted writer, capable of bringing a sense of immediacy to her writing and crafting descriptions so vibrant the reader cannot only picture the stifling hot African afternoon but almost feel it as well. Writing a memoir powerful in its frank straightforwardness, Fuller neither apologizes for nor champions her family's views and actions. Instead, she gives us an honest, moving portrait of one family struggling to survive tumultuous times.
Where to find it:
Libraries: Clackamas Co | Ft Vancouver | Multnomah Co | Washington Co
Vendors: Powell's | Amazon | Barnes & Noble
---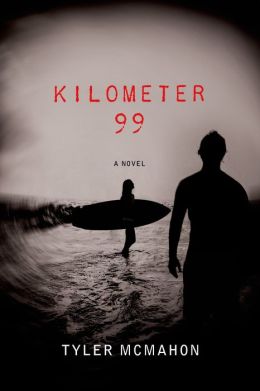 McMahon, Tyler*: Kilometer 99 (2014)
* RPCV El Salvador (1999-2002)
Discussion: Tuesday, March 8, 2016, 6:30-8:00 pm. Location at the home of Peggy McClure, 5450 SW 18th Dr in Portland, 503-453-2089. Participating in our discussion–via Skype–will be Tyler McMahon, the book's author! Feel free to bring snacks to share.
Review: © Booklist: In his second novel (after How the Mistakes Were Made, 2011), McMahon once again focuses on an adventurous young woman, this time a Peace Corps volunteer in El Salvador. Hawaiian-born Malia has come to El Salvador with a newly minted engineering degree, and she throws herself into helping a rural village build an aqueduct to bring much-needed water to the villagers. She spends her weekends with her boyfriend, Ben, surfing the perfect waves just off the coastal city of La Libertad. Then a devastating earthquake wipes out a year's worth of her work, and she finds herself reluctantly agreeing to spend the next year surfing with Ben, torn between her ambitions and her desire for the perfect adventure. But a robbery and an ill-timed meeting with a shady developer derail the couple's travel plans. Instead of following the waves south, they find themselves desperately short of money and involved in a dangerous scheme to deliver drugs to renegade dealers. In this dark adventure tale, McMahon summons both the mystical joys of surfing and the angst of young people trying to navigate a treacherous world.
Where to find it:
Libraries: Ft Vancouver | Multnomah Co
Vendors: Powell's | Amazon | Barnes & Noble
---

Beebe, James*: Those Were the Days: A Peace Corps Volunteer in the Philippines in the Late '60s (2014)
* RPCV Philippines (1968-1973)
Discussion: Tuesday, April 19, 2016, 6:30-8:00 pm. Location at the home of Maria and James Beebe, 2373 NW Pettygrove St in Portland, 971-229-0780. Participating in our discussion–in person–will be CRPCA's James Beebe, the book's author! Feel free to bring snacks to share.
Abstract: A series of vignettes of significant, often funny, sometimes quite serious, events and encounters based on James' Peace Corps experience in the Philippines. As a Volunteer from October 1968 to May 1973 James was profoundly changed by the joy of life and economic inequality he discovered while serving in the Philippines. He helped introduce a new activity-based approach to science teaching, learned the truth of the children's rhyme that "Planting Rice is No Fun," and taught part-time at a College. Life included buying a one-of-a-kind mosquito net, being offered a love potion, witnessing the funeral processions of poor babies, holidays, and being attacked by dogs after eating dog meat. The cloud of the Vietnam War had a significant impact. The most life-changing event almost didn't happen when Maria, the "matchmaker's" intended choice, accused the Peace Corps of "fascism, imperialism, and neocolonialism." Renewed efforts the next year resulted in an accepted marriage proposal 6 weeks later. James then had to secure the blessings of her grandmother, Huk Kumander Dayang-dayang, for a marriage 2 weeks later. They had to wade through a waste-high flood on their wedding day and spent their honeymoon in a 350 year old Catholic convent. Maria's naturalization as a US citizen and acceptance into Peace Corps occurred during a 6 week trip to the US after which they returned as Volunteers to the Philippines.
Where to find it:
Vendors: Powell's | Amazon | Barnes & Noble
---
Most of our books are selected by an annual survey; stay tuned for our next survey in late 2015. We schedule additional books when an author offers to meet with us. If you are interested in learning more about CRPCA's book club, upcoming books or author events, please contact our book club coordinator, Bill Stein, at 503-830-0817 or bookclub AT crpca.org or through the form below:
This page has the following sub pages.